2016 Food Symposium- Looking back, looking forward: food policy in the 21st Century
Read more about this event
When: 12 December 2016, City University London
Chair: Professor Corinna Hawkes, Centre of Food Policy, City University London
Programme
1000 – Welcome: Professor Theo Farrell, Dean, School of the Arts and Social Sciences, City, University of London. Launch of new report: Centre For Food Policy: Teaching, Researching and Influencing Food Policy
1015-1045 – Presentation: Professor Tim Lang – How Has Food Policy Changed and Developed in the Last 25 Years? Where Are We Now?
1045-1230 – Panel: How far have we come in food policy, what have we learned and what do we need to do differently?
David Barling, Professor, Director, Centre for Agriculture, Food and Environmental Management, University of Hertfordshire; formerly Reader, Centre for Food Policy
Kath Dalmeny, Chief Executive, Sustain: the alliance for better food and farming and alumna, Masters in Food Policy, Centre for Food Policy
Liz Dowler, Emeritus Professor of Food and Social Policy, Department of Sociology at the University of Warwick
Terry Marsden, Professor, Environmental Policy and Planning, Cardiff University
Aileen Robertson, Professor, Metropolitan University College, Copenhagen, Denmark; former Director of Nutrition, World Health Organization Office for Europe
1230-1330 – LUNCH (provided)
1330-1345 – Performance by the People's Food Knowledge Collective, featuring Hull Solidarity and Nomad. How can we learn to do food policy better through better understanding the lived experiences of food?
1345-1500 – Audience Voices on Imagining the Future Audience vision on how to do food policy better in the future focusing on three questions:
How would you like to see food policy being done differently in the 21st century?
Who should it involve?
How should it involve them? Feedback from delegates collected from the survey and the post-its on the day will be presented and discussed.
1500-1515 – TEA
1515-1615 – Bringing People's Voices Into A More Inclusive Food Policy For The 21st Century This panel will ask: what does placing people at the centre of policy-making look like in practice? What difference does bringing people's voices into food policy make? How do we do it? It will look at practical examples of where involving people in food policy has made a difference.
Carlo Cafiero, Director, Voices of the Hungry, Food and Agriculture Organization of the United Nations
Karen den Hertog, Programme Manager, Amsterdam Healthy Weight Programme, Amsterdam
Cecilia Tacoli, Principal Researcher, Human Settlements, International Institute for Environment and Development
Tom Wakeford, Centre for Agroecoolgy, Water and Resilience, Coventry University
Dee Butterly, Landworkers' Alliance
1615-1645 – Audience Voices Priorities for how to do food policy differently. Delegates will be asked to vote using clickers in real time to identify priorities for how to do food policy differently.
1645-1715 – Closing presentation: Prof Corinna Hawkes. A Vision Of Inclusive Food Policy For The 21st Century. A reflection on the implications of recent world events for how we should do food policy in the future and the need to connect policy with people, including a summary of the day.
Summary
Following the UK's decision to leave the European Union, the 7th one-day City Food Symposium will consider how to develop, design and deliver food policies more effectively in the 21st century. Reflecting on the past trajectory, the symposium will be opened by Professor Tim Lang. As he steps down after 22 years leading the Centre for Food Policy at City he will join Centre alumni and close collaborators to reflect on past achievements, what has been learned and where change is needed.
Considering the future, the afternoon sessions will discuss how we can do food policy better to connect the gap between people and policy. The discussion will focus on how connecting people with policy — through people-centred approaches, being inclusive of people's voices and grounding policy design in people's lived experiences — could make the critical difference.
This symposium will present opportunities to shape and influence the debate about the future agenda of food policy for sustainable food systems,  better diets and nutrition. It will be chaired by the new Director of the Centre for Food Policy, Professor Corinna Hawkes.
2015 Food Symposium- UK, Food and Europe: The food implications of Brexit
Read more about this event
When: 14 December 2015, City University London
Chair: Prof Tim Lang, Centre for Food Policy, City University London
Programme
1000 Opening Remarks: Introduction to the Day
1010-1230 OPENING THE ISSUES
– Alan Swinbank (Reading University) – Initial economic implications
– Ian Wright (D-G, Food & Drink Federation) – thoughts on food manufacturing
– Martin Haworth (D-G, National Farmers Union) – implications for farming
– Kate Trollope (Editor, EU Food Policy) – the view from Brussels so far
– Peter Backman (MD, Horizons FS) – why this matters for food service industries
LUNCH 1230-1330 (Lunch will be provided)
1330 – 1500 MORE TRICKY ISSUES
– Jenny Morris (Chartered Inst of Environmental Health / TIFSIP) – unravelling food enforcement
– Erik Millstone (SPRU, University of Sussex) – science and education policy
– Geof Rayner (Fellow, Centre for Food Policy) – social and health ramifications
– David Baldock (Director, Institute for European Environmental Policy) – environmental policy
TEA 1500-1530
1530-1700 THE PUBLIC INTEREST
– Andrew Curry (Director, The Futures Company) – Consumer culture
– Peter Stevenson (Chief Policy Advisor, CIWF) – the EU and animal welfare
– Pete Ritchie (Nourish Scotland) – feeding Scotland in the EU if not the UK
– Andrew Jarvis (Executive Director, ICF International) – practical implications for policy making
1700 – 17.45 GRAND DEBATE (with voting)
17.45 – RECEPTION (All welcome)
The background:
The debate about UK membership of the EU is not new. It was heated in the 1970s too. Today, some people hanker after pre-Common Market days and regret entering it on January 1973, and the vote to remain in June 1975, and the widening of EU membership and policy role. Some worry about creeping EU control. Others see the EU has having brought a key food stability compared to the vagaries of the 1930s.
In the world of policy, food and the EU has become a specialist area. Food and agriculture are central elements in the EU structure. A sizeable section of UK media has criticised a supposedly interfering Europe for years, yet the public gets the benefits while not necessarily getting the detail. The polls show diversity and some uncertainty. Amidst all this, the food and agricultural implications of Brexit have barely been raised. This is what the 2015 City Food Symposium will address.
UK food production has been quietly declining for years for many reasons. The gap between imports and exports has been widening, much from other EU member states. Currently the UK food trade gap is c.£21bn in deficit, according to Defra statistics. Big food companies are nervous about supply chains being destabilised; farmers and growers, too. Lobbyists are lining up on all sides.
Symposium purpose:
The Symposium looked dispassionately at the question: what light can be cast on the implications for food of the UK leaving the EU? To do this, we need to consider many other questions.
What is the current EU-UK food relationship? How does it work? Has EU membership been good for food and for agriculture? What about the rest of the food supply chain? And what about consumers?
Is the EU good for them? And good for health and environment? Does the UK contribute to EU food democracy? What interests dominate EU food debates and actions? Considering these and other questions, the 2015 Symposium:
summarised current thinking on the UK, EU and implications of Brexit for food and agriculture
assessed the role of different sectors and actors in the coming debate
clarified current food and agricultural policy at UK, EU, global and local levels
suggested ways forward.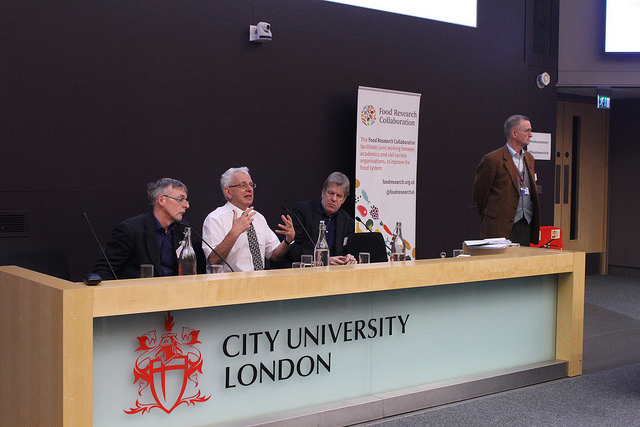 2014 Food Symposium- Sustainable Diets: what is a good diet for the 21st century?
Read more about this event
On 15th December 2014, the Centre for Food Policy at City University London in conjunction with the Food Research Collaboration and the Worshipful Company of Cooks organised a symposium to debate Sustainable Diets: what is a C 21st good diet and what needs to happen?
The chair of the day, Prof Tim Lang, opened the event and set out the themes. The purpose of the day was to address the challenge of sustainable diets in the UK and to consider different approaches taken by key sectors and actors at UK, EU, global and local levels. The symposium was attended by 240 people, two thirds of whom came from academia and civil society organisations, the rest from government, media and the food industry. They heard presentations from 18 distinguished speakers.
The term 'sustainable diet' was coined several decades ago to mean a diet good for health and the environment. As interest in the topic has grown in the last decade or so, for some researchers, this broad meaning has been narrowed just to the environment, downplaying health and other social features. For others this is a technical issue, requiring 'choice-editing' by food supply chains. The need to alter the impact of current Western diets is clear. The Symposium heard strong summaries of the importance of tackling high impact dietary culture. In an era of climate change, biodiversity loss, water stress, and squeezed land use, the need to clarify what a sustainable diet is has thus become ever more important.
Consumers, not just supply chains and policy makers, need to be engaged with the issue but, as was discussed during the day, while there is general agreement that the problems must be addressed there is not a worldwide let alone continental or national consensus on the solutions. There are competing analyses of the way forward: there's not enough food and more needs to be produced versus there is enough food and it is maldistributed. We know what a sustainable diet is and need to focus on behaviour and policy change versus there are still unanswered questions about how to measure impacts and how change on some factors has 'knock-on' implications for others. The issue will be resolved by finance and costs versus this is a social problem requiring cultural action.
The Symposium was an opportunity to consider the UK's policy position on sustainable diets. It rose up the national agenda after the commodity crisis of 2007-08 with commitments made in Defra's Food 2030 and principles agreed by the subsequent Green Food Project (2012) but there was agreement that progress by the UK government has been disappointing. It is not providing a lead on the transition to sustainable diets. One feature of the Symposium was to learn from other countries. Leading speakers from Germany, Brazil and the Netherlands all presented what their governments were going to help consumers change.
The food industry, too, is acutely aware of the case for change. Speakers from WRAP, IGD, the Sustainable Restaurant Association and the Food for Life Catering Mark, all presented signs that different sectors are seriously engaged with waste, carbon and water reduction as well as being aware of the need to reduce food's immense impact on biodiversity and health. This will redefine what is meant by market economics, one speaker suggested.
One level of some positive action within the UK was at the city-regional level. Speakers from London, Oxford and Fife gave examples of the new Sustainable Food Cities network, and of what individual and community led actions can do to nurture dietary change. They too, agreed the need for co-ordination by government to set a framework for change.
In the world of policy, people often say that the ideal is evidence-based policy. Of course. But bitter experience suggests that often policy lags behind evidence and evidence isn't tailored to what policy-makers want or need. In the case of sustainable diets, we have ample evidence of the need for food culture to change, and to do so rapidly. The only questions are: how? when? and will this transition be forced on us or be managed in advance of crises?
Here is a full list of speakers:
Chair: Prof Tim Lang, Centre for Food Policy, City University London
Session 1: Mapping a sustainable diet: the case, the lessons so far
Prof Tim Benton, UK Champion for Global Food Security
Dr Tara Garnett, Food Climate Research Network
Dr Jennie Macdiarmid, University of Aberdeen
Dr Peter Scarborough, University of Oxford
Session 2: Addressing the problem at national State level
Corné van Dooren, Sustainable Food Expert, Netherlands Nutrition Centre, NL
Prof Lucia A Reisch, Council for Sustainable Development, Germany
Dr Patricia Jaime, head of Nutrition, Ministry of Health, Brazil
Session 3: Addressing the problem at City / Regional level
Leah Davies & Rosie Boycott, Greater London Authority
Tom Curtis & Julian Cottee, 3Keel LLP, Good Food Oxford
Mike Small, Project Director, Fife Diet
Session 4: Addressing the problem through civil society
Tony Long, Director, WWF European Policy Office
Sue Dibb, Co-ordinator, Eating Better
Sue Davies, Senior Policy Advisor, Which?
Session 5: Addressing the problem through business
Andrew Parry, Project Manager & Mark Barthel, Special Advisor & Head of Design, WRAP
Jon Woolven, Strategy & Innovation Director, IGD
Mark Linehan, MD, Sustainable Restaurants Association
Jo Lewis, Assistant Director, Strategy, Food for Life Catering Mark
GRAND LECTURE – Prof Olivier De Schutter, Professor of Law at the University of Louvain, Belgium, UN Special Rapporteur on the Right to Food 2008–14.
You can find information on previous Food Symposia at the Centre for Food Policy on the City University London website.