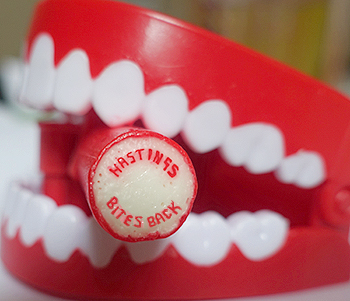 The Brighton and Sussex Universities Food Network (BSUFN) will showcase their newly-developed techniques for collaborative cultural and social research in Hastings.
Abigail Wincott from the University of Brighton in Hastings and Bella Wheeler from the University of Sussex will be joined by members of the Brighton Unemployed Centre Families Project, who have recently completed a 12-month research project on narratives of food poverty. Their exhibition 'Art on the Breadline' will be at the Stade Hall on the seafront during the Hastings Herring Fair, from 31 October to 1 November.
On 31 October, members of the public will be able to try out creative research activities involving collage, mind-mapping and a 'props' box, developed by the Arts and Humanities Research Council's Connected Communities project and similar projects. The aim of the activities is to encourage visitors to propose food research topics and to pose questions they feel strongly about.
For more information on the project and to sign up to be part of it, go to: http://bsufn.com/2015/09/21/hastings-bites-back/
For more information on the Herring Fair event:  http://bsufn.com/2015/09/30/hastings-herring-fair/