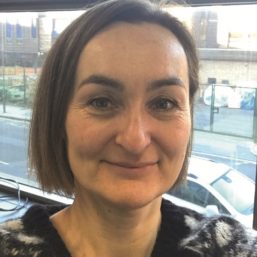 Mary Atkinson
Network Co-ordinator
Mary is the Coordinator for the Food Research Collaboration and leads on the FRC workstream to support sustainable food at the local level. She is a Masters graduate of Food Policy at City, University of London (2012) and Nutrition at King's College, University of London (1989).
Before joining the FRC, she was a food security and nutrition specialist for a number of NGOs and UN agencies in the international humanitarian sector, which took her to many parts of Africa, South Asia and the Middle East. Prior to this, Mary worked as a nutritionist in the UK, mostly in academic research and teaching at Glasgow University, King's College London, London Metropolitan University and the University of Malawi. She also worked for the Department of Health and as a volunteer for Sustain in the 1990s.
Mary is Secretary of Hackney Food Partnership, through which she set up and was the Coordinator of, Sugar Smart Hackney in 2017/18. More recently, she initiated Hackney Food Poverty Alliance and the subsequent development of a Food Poverty Action Plan for Hackney.  She cycles most places, is a keen cook and is particularly partial to funky jazz grooves.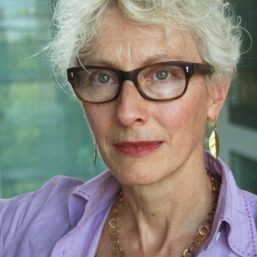 Rosalind Sharpe
Research Fellow
Rosalind Sharpe is a post-doctoral research fellow at the Centre for Food Policy, City, University of London, and a graduate (in 2003) of the Master's in Food Policy. Her research has focused on the sustainability of food systems, especially the social aspects of sustainability, and on the implications of the fact that so much of our food is produced by businesses or corporations. In the past, she has worked as a research assistant at the Centre for Food Policy, as a researcher at the New Economics Foundation, and as a food poverty project officer at the campaign group Sustain. Her first degree, from Somerville College, Oxford, was in English, and she spent the first part of her career working as an editor and journalist in England and Canada. She is married, has two children and lives in London. She used to have outside interests, but is currently obsessed by the impacts Brexit is likely to have on the UK's food supply.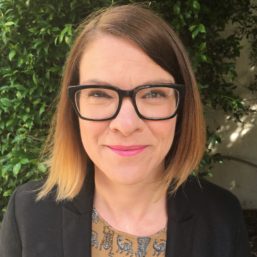 Dr Kelly Parsons
Research Fellow
Kelly Parsons leads the FRC's work on governance. She is a post-doctoral research fellow at the Centre for Food Policy, City University of London. Her work focuses on integrated food policy: what it means, and how it can be done in practice.
Kelly has a PhD in food policy from the Centre for Food Policy: her thesis was a historical, comparative policy analysis of two attempts to create a cross-government integrated food policy in the UK and Australia. She has an MSc in Food and Nutrition Policy from the Centre for Food Policy, and a BSc in Sociology from the London School of Economics and Political Science. She previously worked as an editor and journalist, and at civil society group Sustain: the alliance for better food and farming. She sings in a choir, likes cooking, cycling and playing the guitar.
Follow Kelly Parsons on Twitter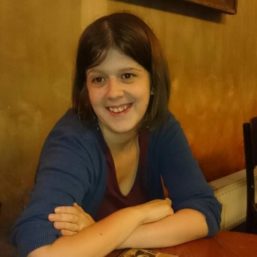 Nora Blascsok
Communications & Web Officer
Nora has been working in research communications for the past four years. Before joining the Food Research Collaboration she worked at the Science Policy Research Unit, leading communications and engagement for a project investigating energy demand. Her interest in food began when she worked at Consumers International as Food Security Intern.
Nora has an MA in International Relations from the University of Sussex and speaks five languages. She is passionate about sustainability and equality, and believes that the two are intertwined.
In her spare time Nora is a voracious reader and has recently started writing and performing poetry, after a lifetime of "I always wanted to write". She also loves being active and outdoors, going on cycle rides, walks and attempting yoga in the park.
Follow Nora Blascsok on Twitter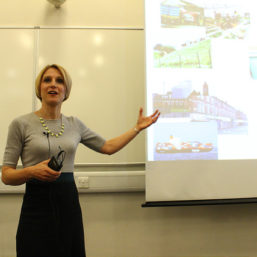 Professor Corinna Hawkes
Chair
Professor Corinna Hawkes is Director of the Centre for Food Policy. She joined the Centre in January 2016 bringing with her a diversity of international experience at the interface between policy and research. She has worked with international agencies, governments, NGOs, think tanks and universities at the international level, as well as nationally and locally in the UK, United States and Brazil.
A regular advisor to governments, international agencies and NGOs, her specialism is the role of food systems policies in what we eat and how they can be levered for positive impact. Corinna serves as Co-Chair of the Independent Expert Group of the Global Nutrition Report, an international report tracking progress in malnutrition in all its forms across the globe. She sits on the EAT-Lancet Commission on Healthy Diets from Sustainable Food Systems, the Lancet Commission on Obesity, the London Food Board and is Vice-Chair of the Mayor of London's Child Obesity Taskforce.
Follow Corinna Hawkes on Twitter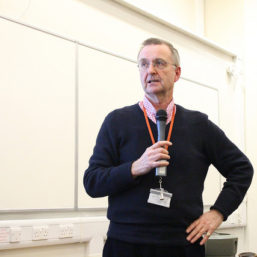 Professor Tim Lang
Founder and Special Adviser
Tim Lang is Professor of Food Policy at the Centre for Food Policy, which he founded in 1994 and which has been based at City, University of London, since 2002. After a PhD in social psychology at Leeds University, he became a hill farmer in the 1970s, which shifted his attention to food policy, where it has been ever since. For 40 years, he's engaged in academic and public research and debate about its direction, locally to globally.
His abiding interest is how policy addresses the environment, health, social justice and citizens. He has been a consultant to the World Health Organisation (e.g. auditing the Global Top 25 Food Companies on food and health) and Food & Agriculture Organisation (e.g co-chairing the working party which defined Sustainable Diets). He has been a special advisor to four House of Commons Select Committee inquiries (food standards x 2, globalisation and obesity), and a consultant on food security to the Royal Institute of International Affairs (Chatham House). He was a Commissioner on the UK Government's Sustainable Development Commission (2006-11), reviewing progress on food sustainability. He was on the Council of Food Policy Advisors to the Department for Environment, Food & Rural Affairs (2008-10), and was appointed to the Mayor of London's Food Board in 2010 (reappointed 2018 in a job-share with Corinna Hawkes). He's been policy chair of the EAT-Lancet Commission report on Healthy Diets from Sustainable Food Systems, due out in mid-2018.
Follow Tim Lang on Twitter