Food educator Charlie Clutterbuck took advantage of a chance encounter to quiz his local Parliamentary Candidate on trade deals
In Accrington, in the northwest of England, where I live, I find people running allotments who voted for Brexit, believing it means we could produce more of our food. I too want to believe that. In my book Bittersweet Brexit1 I suggested many ways to increase production of our own food, from about half now to where it was in the 1980s– around three-quarters– before Mrs Thatcher let the markets rule. Those food imports have disproportionate effects on the world's environment. Nearly two-thirds of the greenhouse gas emissions (GHG) and 70% of the land used to make up the UK's 'food footprint' occur abroad.2
People like my allotment friends see growing more food as part of 'taking back control'. Nobody has spelt out how this might happen. Where is the massive investment in time, money and skills to bring this about? We have lost three-quarters of our land-focused research base in the last 25 years, and our agricultural workforce is old – farmers' average age is 59. The European Union's current re-incarnation of the Common Agricultural Policy (CAP) makes this a central issue for the future: encouraging a young workforce, with a guarantee of permanence.3 Similarly, US subsidies make a point of training and investing in the young to work the land.4
Just putting Union Jack packaging on vegetables doesn't do it. Most of our vegetables come from the eastern counties where crops are grown as annual monocultures, wrecking our best land (Grades 1&2) with soil erosion.5 We are losing two million tonnes of it a year, much going from eastern England. Soil is not only irreplaceable, but a 'Brexit issue'. The UK's New Labour government blocked the EU's Sustainable Soils Directive, so we have no regulations to manage it. On top of this, most vegetable crops are planted and picked by EU migrant workers. These growing areas are where moves for Brexit started and where the highest proportion voted for it, perhaps because of the high levels of migrant labourers working on the land. Little will change, though: the Prime Minister has allowed a quadrupling of seasonal workers from outside the EU next year.6 Land management here has to change to more sustainable, mixed cropping and shorter supply chains for healthy fruits and vegetables, whatever happens with Brexit.
However, there is another sort of Brexiter who stalks the land, and they come in the form of 'free marketeers'. Michael Gove enthralled audiences with his proposed subsidies for 'public goods' rather than simply for owning land (landowners currently benefit most from CAP). But while we were thus distracted, he was running round promoting Free Trade Agreements(FTAs).
The other day, while I was checking out my booze at Booths – the Waitrose of northwest England– I noticed my MP for the rural Ribble Valley, just over the hill from Accrington. He is Nigel Evans, not just an MP but an executive of the 1922 Committee, which is the Tories' parliamentary group, so he is presumably at the heart of Conservative thinking.
'Nigel Evans, isn't' it?' I said.
'Yes – at the start of the election!'
'Can I speak to you about free trade deals?'
'Yes. Which one?'
'The USA.'
'We sell 2000 tonnes of cheese to the US7, and Boris will get a better deal.'
'Any deal with USA will wreck the farming in this rural area.'
'No. My heart is in farming!'
'Cheap foods will undermine our farm products.'
'No they won't, because we have our standards.'
'No we won't. Once we come out of the Single Market they will go'.
Mr Evans looked puzzled.
Yet this is what will happen, because Free Trade Agreements aim to avoid standards. Five of the most likely FTAs – New Zealand, Australia, Brazil, Argentina and USA – will be about dropping our food import tariffs, in exchange for our financial products and white goods getting free access to those countries. We can expect unlimited amounts of tax-exempt lamb, beef, pork, corn and soya – all undermining our livestock production. Sheep and beef farmers are having a bad time anyway, but would find it impossible to produce cheaper than these countries.
Our country has depended on other peoples' land and labour to feed us for over 150 years. Can we depend on them for future generations? This issue needs much more attention than an accidental meeting in the supermarket, and should be a key part of the Brexit debate. We need to discuss this conflict between home and away with Brexit voters, to show we are not 'taking back control' but will soon be 'out of control'.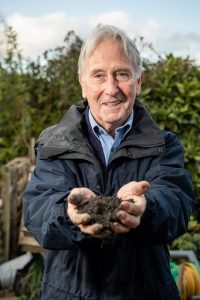 Biography:

Charlie Clutterbuck has three degrees as an agricultural scientist and a long interest in food matters, having written 'More than we can Chew' over 30 years ago. Keep up to date with his views on Brexit, food & farming at www.bittersweetbrexit.co.uk

References:
Clutterbuck C (2017) Bittersweet Brexit: The Future of Food, Farming, Land & Labour. Pluto Press London
https://royalsocietypublishing.org/doi/10.1098/rsif.2015.1001
https://ec.europa.eu/info/sites/info/files/food-farming-fisheries/key_policies/documents/cap-briefs-7-structural-change_en.pdf
https://www.farmaid.org/issues/farm-policy/whats-in-the-2018-farm-bill-the-good-the-bad-and-the-offal/#soil
http://www.soilanimals.com/get-involved/save-our-arable-soils
https://www.telegraph.co.uk/politics/2019/11/09/prime-minister-quadruple-number-migrant-workers-can-take-seasonal/
50,000 tonnes of cheese goes to EU.